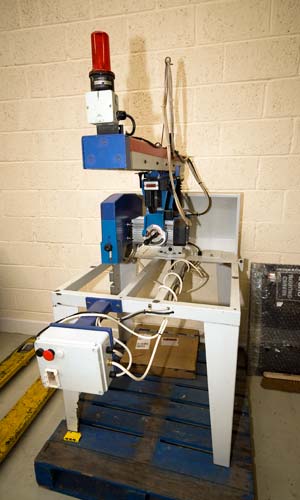 £ 1,200.00


Framar RA60 Radial Arm Saw
The Framar RA60 is a heavy duty radial arm, cross cut saw suitable for continuous industrial use. The head is mounted on 8 adjustable bearings fitted on interchangeable guides system, giving long life and accuracy. The head is universal and is fitted with an automatic device for return. Comes complete with heavy leg stand and extraction hood.
The RA60 with its 600mm cross cut capacity and 100mm depth of cut is our most popular machines, but models with 700mm, 900mm, 1000mm and 1250mm can be supplied to order.

Year of manufacture 2007
Cutting height mm 100
Cutting width mm at 90° 600
Main motor power kW 2.6
Saw blade tiltable up to ° 90
Saw blade diameter mm 350
Saw arm tiltable up to ° 50
With base frame
CE-mark
Total connection kW 2.6
Required space lxwxh 1230x1400x2000
Weight kg 135
Declaration of CE-conformity
Operating status basic functions can be shown
RA60-RA70-RA90
• Electrowelded arm
• Blade group sliding on 8 bearings
• Suitable for blade diam 350 mm
• Back lifting
• Standard CE-equipment
Saw blade dia: 350mm
Blade Bore: 35mm
Depth Cut 90°: 100mm
Depth Cut 45°: 50mm
Length of Cut: 600mm
Main motor: 3.5hp 3 phase
3 hp 1 phase:
Weight: 135kg
Dimensions: 3500mm (W) x 3500mm (L)

All used machinery is covered by a three month warranty. All rebuilt machinery is covered by a 1 year warranty.
Please keep your TSC receipt as proof of purchase must be produced.
For any other information regarding warranties please email info@sawandtooling.co.uk
Warranty does not apply where:
– Repairs are required due to wear & tear
– You or someone else has attempted the repair
– Tool has been abused
– Tool has been modified

Mainland UK
1-Single pallet delivery U.K. Mainland £80
1-Double pallet delivery U.K Mainland £160.00
Most large items fit on a standard single 1200 x 1200 or double pallet 2400 x 1200 and are delivered via palletways.
Clients can request a tail-lift delivery at no extra cost if no forklift is available.
Items outwith these sizes are priced by request.
Non Mainland UK & Northern Ireland
For Heavier goods please call 0131 448 0207 for pricing as depends on location. Competitive pricing available.
Republic of Ireland
For heavier goods please call 0131 448 0207 for pricing as depends on location. Competitive pricing available.
Please note:
Prices exclude VAT