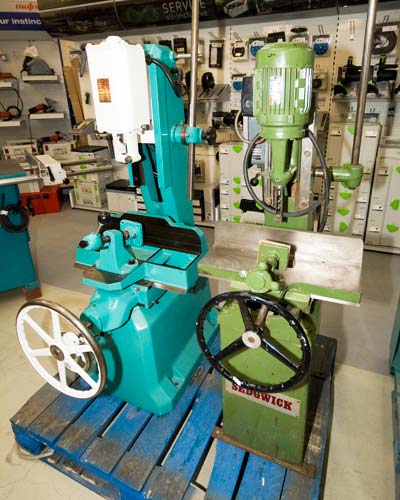 £ 499.00


Designed over forty years ago the Sedgwick 571 is probably the best-proven morticer on the market. With more than ten thousand machines in use throughout the world, its reputation for power, accuracy, reliability, and ease of operation make it regarded by many as 'the industry standard'.
A cast iron base, column, table and slideways provide a rigid and durable mainframe assembly, onto which is mounted the cast iron chisel head and motor. The chisel head assembly is counterbalanced by a weight, giving fingertip control to the rise and fall and eliminating breakages associated with spring type mechanisms. The 1.1kw industrial fan cooled motor fitted with a collet system that provides ample power for continuous duties.
Versatility and Ease of Operation
The table has longitudinal and lateral movement on a single handwheel control, not only for ease of operation, but also for more precise positioning: lateral adjustment of the table being better controlled by a central screw. The angled timber clamp has three fixing positions giving a maximum timber width of 180mm. Coupled with the height adjustable chisel head which can give a maximum timber height of 255mm underneath the chisel, the Sedgwick 571 has exceptional capability. For repetition work the table is fitted with longitudinal length stops, and the chisel head with a two position depth stop (for haunching), thus reducing 'marking out' time.
Safety Features
The switchgear has no volt release, thermal overload, and a mushroom headed stop button.

Model: 571
Max Chisel Size Hardwood: 19 mm
Max Chisel Size Softwood: 25 mm
Nett Weight: 170 kg
Overall L x W x H: 680 x 510 x 1,720 mm
Power: 1,100W (440v)
Rating: Industrial
Chisel Stroke: 125mm
Max Height of Timber with 12.7mm Chisel and Bit: 170mm
Timber capacity : 255 x 180mm
Max. clamping width : 180mm
Motor : 1.1kw 3phase 440volt
Max.height under chisel : 255mm
Table movement longitudinal : 400mm Table movement lateral : 90mm
Weight : 221kg

All used machinery is covered by a three month warranty. All rebuilt machinery is covered by a 1 year warranty.
Please keep your TSC receipt as proof of purchase must be produced.
For any other information regarding warranties please email info@sawandtooling.co.uk
Warranty does not apply where:
– Repairs are required due to wear & tear
– You or someone else has attempted the repair
– Tool has been abused
– Tool has been modified

Mainland UK
1-Single pallet delivery U.K. Mainland £80
1-Double pallet delivery U.K Mainland £160.00
Most large items fit on a standard single 1200 x 1200 or double pallet 2400 x 1200 and are delivered via palletways.
Clients can request a tail-lift delivery at no extra cost if no forklift is available.
Items outwith these sizes are priced by request.
Non Mainland UK & Northern Ireland
For Heavier goods please call 0131 448 0207 for pricing as depends on location. Competitive pricing available.
Republic of Ireland
For heavier goods please call 0131 448 0207 for pricing as depends on location. Competitive pricing available.
Please note:
Prices exclude VAT