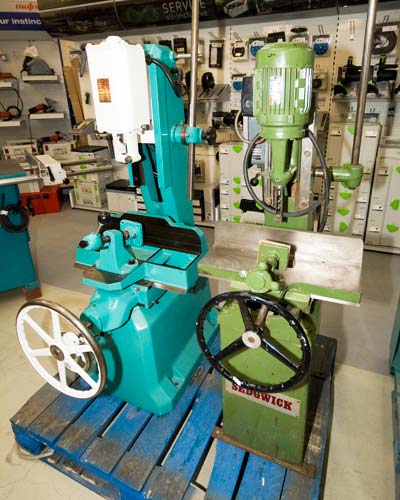 £ 1,950.00


This morticer is a dual purpose, space saving machine, which is an essential part of all woodworking plants. Although the initial outlay is comparatively small, it is a large capacity machine designed to produce clean, accurate work and give long, continuous service at economical running costs.
Built to high engineering standards, the morticer combines strength with rigidity, and the large base area gives perfect stability. All controls and adjustments are conveniently placed so that fatigue of the operator is reduced to a minimum during long periods of work.
Factory Rebuilt
Our factory remanufactured equipment use genuine Wadkin spares and is of the very highest standards. Each machine is stripped down from the cutting edge to the machine frame and then reassembled with any worn or defective parts replaced, beds reground, all health and safety aspects fully adhered too. After comprehensive testing the result is virtually indistinguishable from new.

DM 1″ HOLLOW CHISEL – 1.5 kW (2 HP) (3 phase)
Capacity: Admits timber 250 mm (10″) deep x 200 mm (8″) wide (using 100 mm (4″) chisels)
Takes chisels up to 25 mm (1″) square.

All used machinery is covered by a three month warranty. All rebuilt machinery is covered by a 1 year warranty.
Please keep your TSC receipt as proof of purchase must be produced.
For any other information regarding warranties please email info@sawandtooling.co.uk
Warranty does not apply where:
– Repairs are required due to wear & tear
– You or someone else has attempted the repair
– Tool has been abused
– Tool has been modified

Mainland UK
1-Single pallet delivery U.K. Mainland £80
1-Double pallet delivery U.K Mainland £160.00
Most large items fit on a standard single 1200 x 1200 or double pallet 2400 x 1200 and are delivered via palletways.
Clients can request a tail-lift delivery at no extra cost if no forklift is available.
Items outwith these sizes are priced by request.
Non Mainland UK & Northern Ireland
For Heavier goods please call 0131 448 0207 for pricing as depends on location. Competitive pricing available.
Republic of Ireland
For heavier goods please call 0131 448 0207 for pricing as depends on location. Competitive pricing available.
Please note:
Prices exclude VAT